CONCERT DATES:
Thursday, Oct. 18, GRJHS Courtyard, 7 PM
Wednesday, Dec. 12, GHS Auditorium, 7 PM
Wednesday, Feb. 6, GHS Auditorium, 6:30 PM
Wednesday, Feb. 27, GHS Auditorium, 7 PM
Wednesday, May 8, GHS Auditorium, 7 PM
Write these down in your family calendars, please!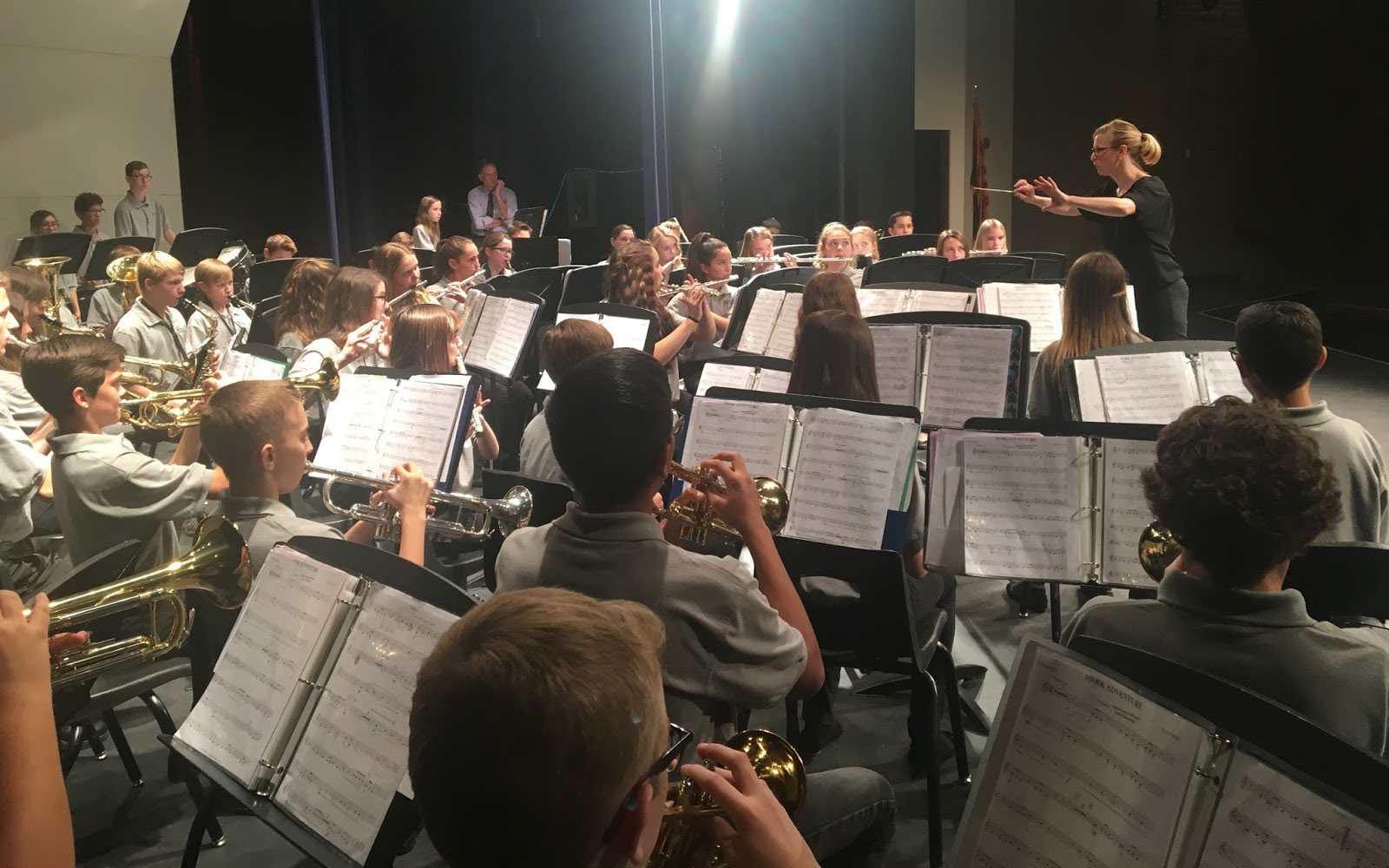 MARCHING BAND NIGHT at GHS and HHS!
Friday, September 28.
(Required event for 8th grade, optional event for 7th grade).
This is a fantastic event offered by Gilbert and Highland Marching Bands.
Our JH band students are invited to attend a fun night of food, football, and most importantly, the excitement of marching band! This year, GHS and HHS have it on the same night, so I'm asking students to attend whichever high school they think they will attend for HS. More detailed information will come out next month, but the general idea is that students arrive around 4:30 PM, mix and mingle with all the band students, eat a yummy dinner, and then march into the stadium to sit with the band through the football game. Our students get to watch the half-time show, performed by the HS marching band, and then they are dismissed to go home, or they stay for the rest of the game. It is a truly an exciting evening, and a wonderful exposure to the thrill of marching band.
SHIRT ORDERS DUE Friday, August 24!
The shirt order form is in the Band Handbook, or a hard copy is available at school. All 7th graders need to purchase a shirt for their uniform. 8th grade students only need to purchase a new if you lost your old one or you are new to the program.
Please let me know if you have any questions.
BAND BOOSTERS
This year we've started a GRJHS Band Boosters, whose sole purpose is to support the band program. They are working diligently to provide fundraising opportunities for our students and they offer support to the program throughout the year.
Please email greenfieldbandinfo@gmail.com if you'd like to lend a hand from time to time. The more help, the better!
SILENT AUCTION
We're having a Silent Auction at our Concert in the Courtyard on October 18. This is one of our primary fundraisers for the year and we need your help! Can you think of any businesses that might be willing to contribute? Do you have any connections? If so, please take a minute and email one of the parents listed below, with "silent auction" in the subject line.
Mary Ramsey: mramsey14@me.com
Stacey Kowitz: staceykowitz@gmail.com
These funds go directly towards benefiting our awesome band students – funding field trips and sectional teachers, repairing instruments, purchasing new inventory, and much, much more. We appreciate your help in making music a great experience for your student. We can't do it without you!
TAX CREDIT DONATIONS
Please consider making a Tax Credit Donation to the band program. We use the funds for field trips, music, sectional teachers, miscellaneous supplies and anything else that will enrich your child's musical experience. These donations are an enormous benefit to the entire program, and are greatly needed to reach our goals.
Also, consider asking neighbors or other family members to make a donation – many people WANT to make a donation, and simply don't have a specific program to designate their money towards. Additionally, some families still aren't aware of how the Az State Tax program works. Take a minute to explain that this is a WIN-WIN for all parties involved! It's crazy NOT to do it.
8th Grade parents, please read the additional document I sent in the email regarding Tax Credit Donations and our potential Disneyland trip.